Using Zoom to Teach Live Classes Online
As I've written before, when I teach online, it's about as far from a MOOC as you can get. The biggest difference is that all Yale Summer Session online classes include a large live component. Imagine the instructor is in a Google Hangout for big chunks of time with their 15 students scattered around the world. Of course the devil is in the details, and we don't use Google Hangouts since they only support up to 10 participants. As far as I know, only two companies go over 15 simultaneous users: Watchitoo (up to 25) and Zoom (up to 100!). I used Watchitoo last year with mixed results, and this year we're trying Zoom.
Zoom is a fundamentally different product from Watchitoo. Instead of being implemented in Flash and sitting in a web browser, students and instructors use a standalone app that supports Macs and PC's as well as iOS and Android devices. I didn't have much demand last year from students wanting to attend classes on their phones, but there are more benefits to this approach than just access.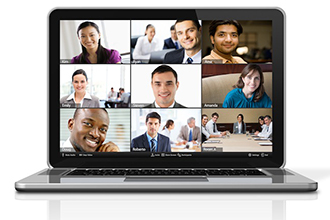 First, stand-alone apps have the potential for much higher performance, as long as students have fast Internet connections. Second, by living outside the web browser, Zoom faces fewer restrictions on what it can do–In practical terms, that means it bothers users with far fewer warning dialogs about the camera turning on or off. Third, Zoom uses its freedom from the browser to provide a clean user interface that leaves as much room as possible for live video and class content–there are very few unnecessary window borders or widgets. This is critical when most students will be logging in from small screen laptops.
Another big difference between Zoom and Watchitoo is that Zoom expects instructors to make heavy use of screen sharing. Zoom doesn't supply software to display or directly annotate PowerPoint or PDF presentations. Instead I choose exactly the app I like (e.g., Preview or Pixelmator) and share that window with the class. Zoom provides a small set of annotation tools that work on top of any shared screen. The tool set is currently a little thin (e.g., no eraser), but I think it will get the job done.
The feature I miss most is what Watchitoo called "Playgrounds". These let me split my students into sub groups during class to work on and discuss problems together before rejoining the big group. Unfortunately, it was so painful to get in and out of the playgrounds that by the end of the term last summer I was barely using it. I've heard through the grapevine that Zoom is working on a similar (hopefully better) feature and I can't wait to try it.
My first summer class is June 2nd (just two weeks away!) and you can be sure I'll be reporting on how the software works in a real life virtual classroom.